JUMANJI'S GR CH RED ROMAN – DOY

JUMANJI'S GR CH RED ROMAN
Red Roman comes about from the breeding made off Ballistic, imp to Roxy. Ballistic was a tight Bolio bred male, imported from Poetic Justice Kennels in the USA. Roxy was, a very hard biting Frisco bitch, off an import son from Garner's Ch El Negro Rom to a daughter of Ch Cassidy – also a tight Chinaman/Frisco dog. Ballistic has proven to be a prolific producer in just a few breeding's done with him. Red Roman started at a young age and showed great composure, bite and ability and has earned his Grand Champion status by the age of three and a half years in just 17months, ending the careers of all his opponents. He is considered to be a true Ace by many seasoned dogmen. The one with an unbreakable deference finisher of note, a once in a lifetime marvel and one of the greatest Grand Champions produced and campaigned in RSA. We did it the hard way by traveling far and wide into only the best and bravest competition around. Following is an illusory report of his sensational career as a combat dog.
1. RR vs Yellowman's Pedro – Novices
Pedro was a notorious brindle dog off Yellow/Buck blood, feared by many for his devastating mouth and was tipped as becoming the next grand champion in quick time; especially in the hands of an adept veteran in the game. It was said that Pedro destroyed all his schooling opponents in the chest, and ending the careers of some before they could even go to the square. The night came when he would meet RR at a neutral venue where both dogs came in on 19.2 kg. Upon release the dogs meet in the middle with RR immediately going for the head and Pedro pushing for his favorite spot in the chest and throat area. They look in top shape and seems to be evenly matched in the power department. Pedro then got in the throat for a few seconds initially and it was like RR saying to him – 'you're not gonna get in there again.' And so the contest went on with RR on solid-, unbreakable defense on the head and ear, riding out the determined Pedro, and waiting for his opportunity to counter for his favorite spot. RR now floats like a butterfly on a clear day that is always just beyond the grasp of his pushing opponent, while all the time testing the speed and ability of the advancing Pedro. There is a quiet astonishment and appreciation form the fanciers in attendance as Red Roman effortlessly glides upon the floor. After about 10 minutes it looks like RR has figured out Pedro and slowly comes down from the deep ear hold to the side of Pedro's jaw. He now sits deep in that jaw while contemplating his next move – it's a very awkward and uncomfortable hold for Pedro and he can just wait for a gap to move out. Suddenly, Roman shoots hard into Pedro's throat and throws him down while working him over. Pedro gets up every now and then but RR would grab the ear and turn- and throw him on his back and would work the throat again and again – those intense body slams is slowly taking its toll on Pedro's vitals. The more Pedro tries to anchor himself on the floor, the more it works against him – he needs quick-feet here, not an anchored back-end. At 20 minutes RR is way ahead and Pedro starts protesting but continues to look for his spot while RR dances with agile feet, keeping him out. It's now 30 minutes and Pedro has not done any real damage on RR, getting only a few shots in the chest and throat. RR remains unbending and shows that he is the real throat killer here. And with systematic changes between ear, head and throat he demonstrates his great control and prowess. At 40 minutes RR is now mopping the floor with Pedro, who has now excreted blood and dung which fills the air with a foul stench, and he is beginning go down fast. He not only sense-, but also smells the imminence of the end and starts to push with great ferocity into the throat, closing it shut like an apex predator in the wild. RR's tail is strait up in the air as he summons death to come. Pedro is picked up at 45 min as a few more minutes of this brutal punishment would have surely killed him right there. RR scratches to win with Pedro making a game courtesy scratch, but his career is ended and never scratches again. Red Roman 1xw. Respect Yellowman and Pedro!
2. RR 1xw vs BHK's Chinaboy 2xw
RR's infamy quickly spreads after his classy and convincing win over the brute from the "Y" and all the local 19.5kg males where suddenly kept under wraps. We then got a call from the BHK team from the Mother City, who was also a dominating player in the game at that time with his hard biting frisco dogs. Terms were set and we had to travel a long way to meet the 2xw Chinaboy, who had the betting odds over RR. China was another typical 'forward monster' and it was said that nothing would stand in his way to become a champion just like his famous sire Ch Bakkie. Well, the time came for the face-off down under where the sun was scorching hot and the heat totally unbearable. But RR took the harsh traveling well and looked fresh for the business upon arrival. We were received with great hospitality from the BHK team and other Dogman from the area who came over to hang out and talk dogs till the early hours of the morning. There's such complexities yet simplicity about these great warriors that will have you talking for hours with your 'dog-brothers' even though you've just met them. While we stayed with our opponents we continued to joke back and forth, with how we've brought a drip-set and after-care kit for them for after the show, to which they'd reply that they've already dug the hole for us – (hahaha) great fun! The night of reckoning came on us swiftly and we mutually decided to move our kick-off time to about 2 hours later, as the heat and humidity was just too merciless. I thought it would be a real uphill challenge for RR to deal with the travelling, heat and humidity while at the same time also going into an experienced campaigner who was very well prepared.  The time for the weighing and wash came and RR hit the scales at 19.3 with Chinaboy coming in at 19.1. There is a creepy silence around while the dogs are being washed right in the sight of all in attendance. The air is agonizingly thick with humidity and also with great expectation. Dogs are brought to their corners and RR starts acting up and moaning in the corner, belligerent to be released while waiting for the 'pit your dogs' command. Upon release RR shoots over like a rocket and almost meets Chinaboy in his corner going straight into the stifle and immediately hits a bleeder in Chinaboy's back-end. As he starts working over that good firm hold Chinaboy goes for his muzzle to try and pry open the clutches of hell. Chinaboy finally gets him off and tries to sit on RR's muzzle which makes the BHK crew very excited and animated but RR's mouth is too fast and quickly disables that attack from Chinaboy. RR then immediately takes control of the show by doing what he does best; by being patient and working the head of Chinaboy while showing tremendously quick footwork and awesome ability, which quickly left the audience in silent awe. They are not used to Chinaboy not having his way with his opponent. It's like a mute button is pressed and nobody is saying anything when voice from the silence emerge; "Chinaboy!, PLEASE do something!" RR is systematic and works out his own plan, and would go into CB's throat ever so often and then back to that commanding hold on the head and ear. At 10 minutes he shoots again into the rear of Chinaboy and there's a stifle-hold exchange with comments that RR would be the first to leave there to defend as China had a very heavy mouth. But to everyone's surprise it is Chinaboy who let's go first to defend on the muzzle. RR is once again too quick and counters into the throat.
This is how it goes till about 30 minutes with Red Roman in total control, punishing the throat and stifles of Chinaboy with offensive head holds for recovery. At this time RR is still fresh and in total kill-mode and has Chinaboy down and hitting hard in the throat which now begins to swell quickly. Chinaboy tries his utmost to get out of that debilitating hold while on his back, but RR is too strong for him and all the punishment he received till this far has sapped away his will and energy. He is on his back but running on air – his eyes starts to roll over – he is in shock! CB's crew are in disbelief and forgets to throw in the towel and pick up; and at 33 minutes Chinaboy's body is totally lifeless under a riotous Red Roman – his air supply has been switched-off and his power supply shut down by the Raging Red Roman. RR still does not relent and goes even harder with tail up and ripping out small pieces of the carpet with his toe-nails as he digs in violently.
Chinaboy's handler and the Ref says to their corner "he is dead" – The corner replies, "he is dead", but everyone is in such disbelief that no-one gives an indication to break it up and we had to ask the Ref for the 'break-up'. I break it up and take RR to his corner who screams 'blue-murder' as he wants to go back for more – but alas, it's over now. RR gets a formality to scratch to win into the lifeless body of Chinaboy and shows that killer instinct by rocketing over and immediately working the throat again. Red Roman is now a x2w in another spectacular display of class and rampant fury.
3. RR 2xw vs Seadensun's Wuteng 2xw
For RR's third we had to go into another 2xw who was at this time being campaigned by a real expert and veteran in the game, who was also renowned for stopping good dogs. Seadensun was conditioning a 2xw called Wuteng, a real classy head dog who was going to try and stop Red Roman. Once again the betting odds were against us to win, especially because we had to travel again to the tropical KZN area to meet our opponents. This time things did not go too well for us from start to end while we were on the road. Upon our morning departure we loaded up everything in the car including RR who was fastened in the back of the vehicle. We would pick up his crate from a friend who was only a few km's from us on our way out. We were still in the garage doing our checklists and going over our travel logistics when Red Roman somehow made his way to our food-box and got hold of our uncooked morning breakfast. We were so shocked when we got to the car to discover that half of our food was gone, with RR licking his lips and all the evidence right under his nose. We knew then that we're in for a roller coaster of a ride since we had no time to wait for the food to digest and had to leave at that very moment.
We were hardly on the road when the trouble started – RR started to vomit up our breakfast little by little, but we were determined to keep going so we'd have enough rest for the show the following night. To make matters worse we encountered deferring road-works when we got close to our destination and our travelling time was almost doubled. When we finally arrived at our host, the first thing was to weigh and feed RR – we were devastated to see RR hitting the scales at 18.2 kg! (1.3 kg below the contract weight) and heavily dehydrated with less than a full day to go before kick-off. All the odds were now certainly against us and we had a choice to just pay forfeit and come back and try another day – it was after all a championship match into tough competition. We did what we could to 'fix' RR and would only decide the next day if we'd continue or not.
Time for the weigh in came and RR was spot on at 19.5 kg and Wuteng came in at 19.3 kg. RR still looked a lot smaller than his opponent who looked 'fresher' and more rested than him. Upon release RR goes for the stifle but gets pulled of quickly by Wuteng and then switches to his distinct and familiar head holds. RR knows what he wants to do but looks weaker than Wuteng who is now also bringing his 'head-and-muzzle game' to RR. Holds are swapped out in the first 10 minutes with the clever Wuteng having a small edge over Roman. Roman must play the waiting game and draw from his great wrestling ability to figure out his crafty opponent. Wuteng then gets an advantage over RR and hits a bleeder in his muzzle and over the next three minutes starts working over that muzzle real good. RR struggles to get out as Wuteng seems to be getting more confident and settled. Roman must now contend with a bleeding muzzle and a very good hold from his advancing adversary. He waits it out while also taking some punishment and at 14 minutes RR gets out of that muzzle hold, totally pissed off!, and starts to bring the big-show to Wuteng, and at 20 minutes things are even again.
RR now looks like his blood is freshly oxygenated and for the next 10 minutes it is all out war as Roman frequently turns Wuteng and slamming his body on the floor, then hitting his throat so hard that it starts to swell. Roman switches between stifle- and throat holds when he has Wuteng on his back making it very uncomfortable for him. Wuteng loses his composure and is now more on his back, helplessly trying to fight off the indignation of RR, and when he does come to his feet, he looks for a way out. At one moment Wuteng had his front feet on the pit wall trying to escape but RR was not yet finished with him yet and pulled him back to the action. The writing is now on the wall – RR is gaining more and more ground as he looks for the kill-zone with Wuteng just going down with no answers. At 34 minutes its prime time – close the doors and roll down the shutters, 'cos we're not going anywhere, where staying right here!'- The end is near. RR is folding up- and killing a down Wuteng who doesn't look so big anymore in the corner where there's no way out. A short while later Seadensun concedes and pick up just in the nick of time making RR, Champion Red Roman in just 36 minutes. The Red Roman proved here that he was truly the real deal by recuperating in such a short time and still coming to win in short order. There's handshakes and good sportsmanship all round.
Red Roman is now not just a 3xw but also a recognized Champion – beating other winners and champion contenders. All these other 3 x winners who did not beat a winner falls short of the illusive title of 'Champion'. Go beat the winner for the title!
4. CH RR  vs CanonBoys' Branson
Immediately after Red Roman won his championship title, we had his weight open again on 19.5 kg, and although there were other winners on that weight around, no one dared going into the 'Red Zone'. The talkers just kept on talking, the 'spot-pickers' kept silent and the 'cyberdoggers' stayed in their virtual fantasy world – hahaha! These phonies are everywhere, sitting with their 'papered dogs', picking up EASY titles and awards "BEST IN SHOW" and "GAME IN SHOW", with only a one or two card show. They will avoid at all cost the REAL- and HONEST competition for false publicity and the limelight. There is a code of honor among the serious dogmen though, that keeps them only looking for stiff competition; and long may this valiant honor of the brave continue.
Finally, great stand-up guys from "The Port" answered the call and were willing to travel to us. The Canon Boys thought they knew exactly what dog to use to counter the quick thinking style of CH RR. And it just so happened that they had brought an intelligent and nippy dog to the show, who would try to outsmart and outlast RR. 'D Day' came upon us quickly and RR was not in good shape – he had a difficult keep after being bred to his half-sister during the keep. On the day he was worryingly dehydrated and hot – ominous signs that would test his mettle. At weigh in we come in dead on weight but very dry and Branson hit the scales at 19.2 but looks sharp and unaffected by the travel – he is a lanky dog standing taller than RR on a strong lean, muscular body.
While waiting for our opponents to enter the square, I felt RR's core temperature was way above what it should normally be and tried to sponge away the heat. Upon release RR went for the shoulder of Branson and started working with Bronson going for the head. RR switches between shoulder- and head-holds while Branson prefers the head and ears and would often go to the shoulders as well. Branson's ploy is to take it slow and 'literally' ride RR by climbing on his back. A very strange looking battle ensues with RR fighting a dog that's content to ride on his back while always twisting away from RR's attack. Roman now carries the full weight of Branson while trying to fight him from the bottom up and at 15 minutes hits a hotspot which gives Branson an opportunity to break through RR's defense. RR is on his back with Branson now in the shoulders and chest area and must endure the flurry Branson throws at him. RR finds it difficult to get of the hotspot but after a while comes up and starts to swap it out again, and it's now 'tit-for-tat'. Branson is definitely contending hard and does not easily give away an inch.
At 30 min it's about even and I employ some gamesmanship and call a turn on RR as I'm looking to sponge him down – We are denied as there is no turn. At 35 min I try again and call a turn as both dogs are now breathing deeply after a frantic pace. Although there is no turn CB obliges since Branson could now also do with a breather and a sponge down in the corner. The break in the corner and sponge down relieves RR somewhat who then comes scratching out of his corner like a house on fire (no pun intended) and meets Branson a few steps out of his corner and for the next 5 minutes he starts hitting shoulders and throat working him over real good. Roman seems to have recovered from the long hotspot and looks good again, and has Branson on his back who by now has lost his momentum and rhythm. We're now looking for a quick handle as RR put in a lot of good knocks on the down Branson, and we get it. Branson to scratch – he stands and all fours not making a move. That thunderous scratch and last onslaught from the much experienced Red Roman was just too much for him, and he gets counted out making Champion Red Roman a 4xw in just 40 minutes. Afterward, while our team medic takes care of the Champ I get a call from BBK from the Mother City who has a Champion on our weight which won his champion status just 2 weeks ago and was looking for a date with RR. We secure the appointment right there for 3 months out. Salute CanonBoy, Young Money and Ripp!
5. CH RR 4xw vs BBK's CH Psycho 3xw
There was a whole lot of hype going around at that time about what was said to be the match of the year between Champion Red Roman and Champion Psycho. We would meet on even terms at neutral grounds with both camps travelling. It was a match that was totally unavoidable as both dogs where gaining a good reputation on the circuit. Both dogs where totally dominating their weight divisions in their local provinces, and dogmen from all over would have given their 'left nut' just to be a witness of the greatest match-up of the year. Here were two champs that where totally different in style and approach and you'd hear stories of the modern day Chinaman versus the modern day Bolio. Champion Red Roman vs Champion Psycho got the same hype and excitement among the dog fraternity as the Mayweather vs Pacquiao fight drew among boxing enthusiast, but this one lived up to the expectation. Ch Psycho (a black Chinaman bred dog) was the real deal gut killer, just like the stories we read from the famous 'Ch Chinaman's' matches, and he truly and utterly destroyed his three opponents to earn his championship status. Not one of Ch Psycho's opponents lived to tell the tale. Ch Red Roman on the other hand is this skillful and patient head-hunter and throat killer, just like the legendary 'Bolio dog' of old who's blood was flowing strongly in the veins of RR.
Travel day came and we traveled a long time but satisfactory to our destination. We arrived about 24 hours before the show and settled in very well with Ch RR taking the drive very well. Upon arrival we took him out of his crate and he immediately knew what was going on and pushed out his chest, lifted up his ears and launched his tail straight up in the air, eagerly looking for prey as we took him for a light walk. The excitement and expectation was just too electrifying! Everyone in 'the loop' knew and huge bets where placed. Our hosts stopped at nothing to prepare a luscious table and good lodging for us to make us feel comfortable and happy. It was like there was a hospitality trophy that was up for grabs and they were not gonna come second. Our opponents then also arrived at our hosts place and there again the dog talk went on until early in the morning. D-Day came quickly and while we waited for the minutes to count down, the Ref and his timekeeper came to sit with us for a while. They were the opponents of BBK and Psycho's championship match a few months earlier. They've seen and experienced first-hand what Ch Psycho can do. Here they were telling us how brutally Psycho took their good dog apart, and that we can be certain that it will be over once Psycho just gets into the gut once. Needless to say, they managed convincingly in handing us the extra fear factor.
Darkness now slowly descended and we knew that the time had now come for which we have worked so hard over the last couple of years. It's an hour before kick-off and we do an unofficial weigh in – both dogs hit the scales at 19.6 kg. The agreed weight is 19.5 kg but both dogs are empty and we decided to get the show on the road. Dogs are washed and brought to the square; "face your dogs – release!" is the call and the champions meet hard in the middle with Psycho going for the front leg and paw and then bites right through RR's left paw leaving a bleeder, but RR quickly takes him off and rides him. Ch Red Roman is in the best shape of his life and shows great composure and total control over Psycho, with superb wrestling ability and natural air. Psycho pushes fast and hard attempting to get to the back end of RR who performs like a Spanish Matador keeping out the raging bull. At 5 min my team call out their bets on RR with no takers and it stayed like this throughout. Meanwhile Psycho changes his plan to rather chase the throat and chest of RR as it is closer to his mouth – with RR on his head. RR is in control on the head for the next 10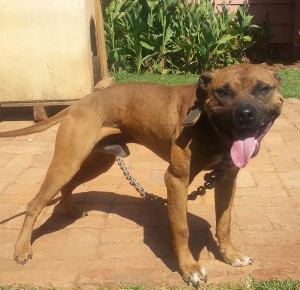 minutes with Psycho also getting a few loose holds in the chest. Then suddenly RR holds the pushing Psycho dead still in the center of the park, and then shoots into his stifle, and hits Psycho hard at the back. Blood starts flowing from Psycho's stifle and he looks surprised and a bit shaken by that move; after-all that's his signature move. RR then gets out again and back on the head and then grabs the ear looking to turn Psycho which he succeeds in frequently. As soon as Psycho is on his back, RR goes in to soften up the throat. This is how it goes till 20 minutes when RR hits the stifle of Psycho again. This is where Psycho now tries to trade by also grabbing RR's stifle but he concedes that small battle and goes to the back to try and take RR off by biting the head. This time when RR comes off Psycho's stifle the damage there is considerable with Psycho unable to properly stand on that leg – it is the same stifle that got punched earlier. Psycho however, pushes on and shows strength and great determination but Roman never takes bottom and remains in command.
At 30 minutes Psycho has taken a substantial amount of systematic punishment and I say to myself that he won't go for longer than 10 more minutes. At 40 minutes he is still there and the pace is still frantic and the game electrifying. Calls are now being made that Psycho could possibly win on gameness, as his destructive arsenal of weaponry's failed to launch. At 45 minutes the pace begins to slow down and at 50 minutes Psycho is down but still in hold as well. RR sees an opportunity to recover before making his final assault. Both dogs are now on the floor, but still in good holds and just waiting for the other to give away an inch, but none give in. At 55 min Roman is the first one up and is determined to finish this show with a bang! RR starts working over the down and exhausted Psycho with punishing stifle and shoulder holds. He then goes for his favorite spot in the throat and when he sees that Psycho is now unable to mount a comeback he musters up all his reserves and goes for kill.
I push him to finish it here – his tail is up, the wind is in his sails, he advances with great brutality and begins to kill the unresistant Psycho, who is now totally incapacitated and not moving. My team and I call out ''pitkill, pitkill, pitkill!" when Psycho's handler decide to pick him up and concedes just in the nick of time. He is taken to the corner and sponged down and shaken up to bring him back from death's door to see if he will scratch. He just barely manages to stand but is counted out on all fours. RR scratches a hard courtesy at 1 hour 3 minutes to make him the Prepotent Grand Champion Red Roman! Great sportsmanship by BBK and crew with handshakes and felicitations all round.
Ch Psycho never scratches again and becomes only an ally in the 'Red Warrior's' quest to be The Best of the Best! RR convincingly beat a legitimate Champ to earn the status of Grand Champion. Very few 'Grand Champions' beat a champ on their way for that illusive title – the Beast of the East did it hard and loud!
Big-ups to River Kennels for breeding this fine specimen and my proficient Crew – Spartan, BugsyBoy, Mr Highway and Destroyer for sound advice, comradery and bravery.
A special thanks to our generous hosts and highly competitive opponents who upholds the honour of this great breed…
Thank you Romee; Seuntjie (Gr Ch Red Roman) for the absolutely priceless memories! A short walk on the leash turned into endless hours of teamwork and success. Dogs like you only comes around once in 10 years and I was just fortunate to be graced by your magnificence.
Live long as my pet and companion on this life's journey.
Jumanji – 'Lord of the Jungle'
"Respect is for those who earned it, not for those who demand it!"
Nb. Gr Ch Red Roman has also earned the Dog Of The Year 2015 honor, from The Active and Respected Fraternity. He is now retired and at Stud, living the Good Life and waiting to overtake the great TTK's SCAR Rom, as the greatest Combat Dog and Producer of SA.